How to Start Hiking: Tips for Beginners
Hiking is a great way to spend time in nature, improve fitness, and have fun with friends. With a little bit of preparation, it's also a great beginner-friendly activity. If you are a new hiker, here are some tips to help you hit the trails.
Find Hiking Partners
When you're just starting, it's safer to go with a friend who can encourage you, help you out in an emergency, and share their expertise. Remember that you will need to stick together and travel at the pace of your slowest group member, so ensure you have the same goals for your hike.
Choose the Right Trail for Your Experience and the Conditions
Beginners should start with short trails rated easy, then work up to longer and more challenging hikes. This list of the best beginner hikes around Vancouver is a great starting point.
Trail guides list the best months to attempt each hike to avoid ice, snow, and flooding. The weather forecast may also influence trail choice – on a rainy day you may prefer the shelter of a forested trail instead of an open mountain top.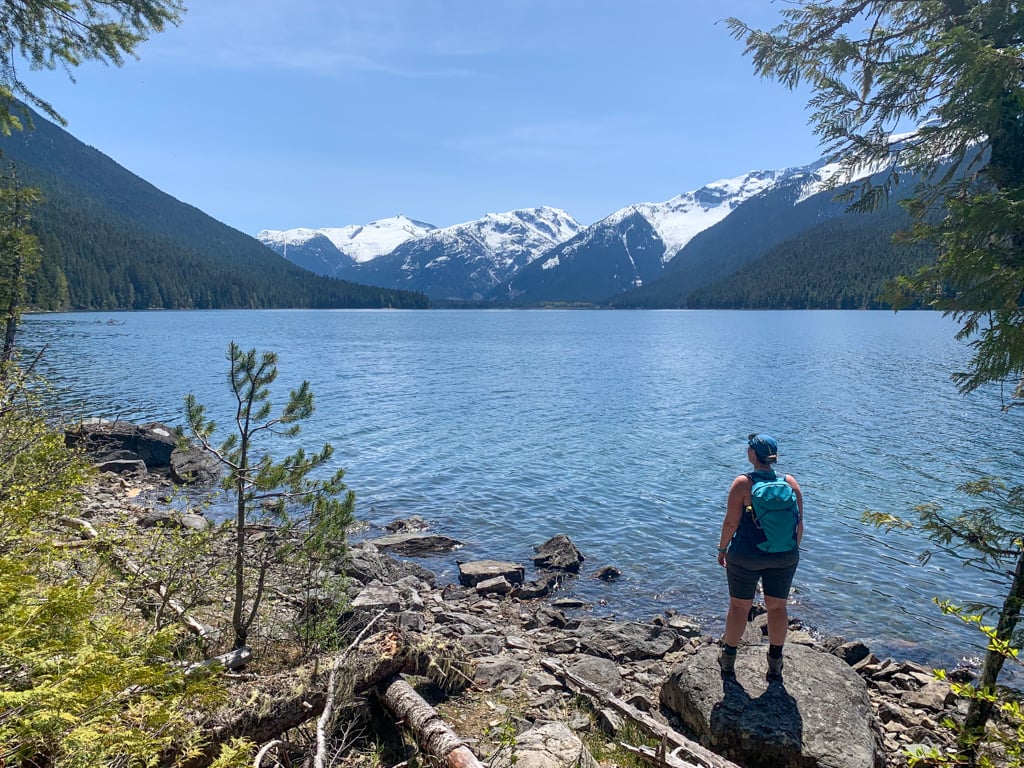 Give Yourself Enough Time
Start your hike early so you don't get caught out after dark. Trail guides provide time estimates, but with experience, you may find that you are faster or slower than average. In general, hikers walk 4-5 km/hour on flat ground. Add 15 minutes for every 100 m of elevation. And keep in mind that travel times will be much slower on trails that have lots of roots, rocks, and technical terrain.
Leave a Trip Plan
If you get lost or injured, will anyone know to look for you? Many trails do not have cell phone reception, so you may be unable to call for help. Leave a trip plan with a friend or family member who can call 911 to deploy search and rescue if you don't come home on time. AdventureSmart's Trip Plan app spells out all the info you should include.
Bring the Ten Essentials
The ten essentials are a list of safety items that can help you survive an emergency, like getting lost or hurt. They include a flashlight or headlamp, communication device, fire starter, warm clothes, knife, emergency shelter, first aid kit, navigation device, sun protection, food, and water. Learn more about what to bring on a day hike.
Dress in Layers
Bring layers of clothing you can add or remove to adapt to temperature changes. Keep in mind that it can be much colder and wetter in the mountains than it is in the city. A rain jacket should be in your pack on every hike – it can be helpful if the weather turns unexpectedly or if you need to wait for rescue.
Choose quick-drying clothing made of wool or synthetic materials like nylon and polyester. Avoid cotton as it holds moisture.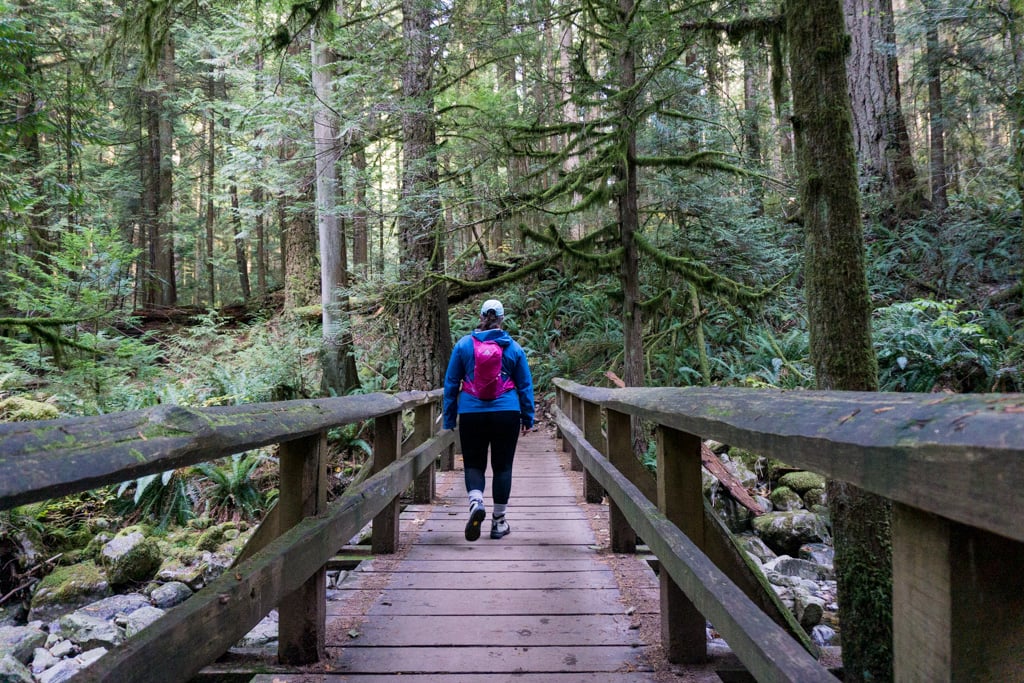 Keep Your Feet Happy
Wear sturdy hiking boots or trail shoes and consider waterproof ones for Vancouver's wet weather. Regular shoes don't have enough support, won't grip on slippery terrain, and get soaked easily.
Choose hiking socks made of merino wool or synthetic materials. Avoid cotton as it soaks up sweat and will give you blisters.
Pack Extra Food and Water
Hiking is hard work so bring a little more food and water than you think you'll need. Most hikers drink about 500 ml of water per hour of activity, but pack more in hot weather.
Learn How to Navigate
Many trails are well-marked and have signs at each junction, but some are not. Learn how to use a map and compass and practice each time you go out. You can also use a GPS device or GPS trail app, but bring extra batteries and a paper map and compass as backup.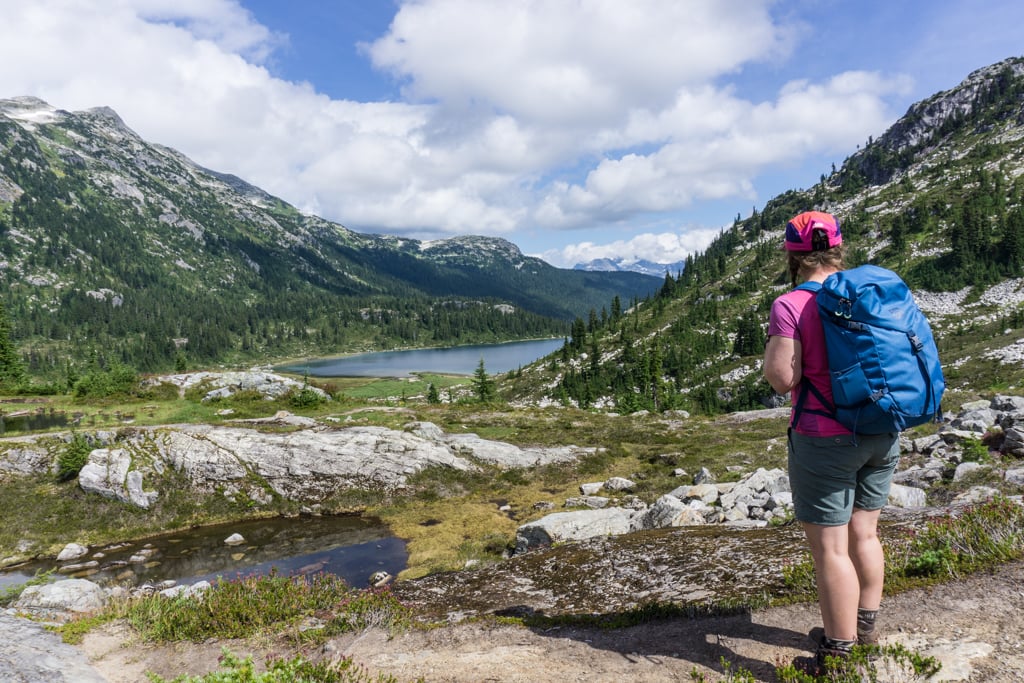 Save Your Phone Battery
In an emergency, your phone could be a key lifeline. Bring a power bank and cable so you can keep it fully charged. Put your phone in airplane mode while you hike to save its battery. (If you're using a trail navigation app, you can leave GPS or location services on.)
Follow Hiker Etiquette
We all share the same trails, so take a few minutes to learn about hiker etiquette. A few key tips for beginners: Be friendly. Move aside to give others space when passing and at viewpoints. And skip the music.
Learn How to Leave No Trace
Respect the wilderness by minimizing your impact on every hike. You have probably heard the saying "pack it in, pack it out". The seven principles of Leave No Trace build upon that philosophy to give us guidelines on how to prevent trail erosion, respect wildlife, go to the bathroom, and more.
Be Bear Safe
To avoid negative bear encounters, hike in a group, make noise, and keep your dog on a leash. Carry bear spray and know how to use it. For more info, read our bear safety tips for hikers.
Enjoy the Journey
While many hikes have a clear destination like a viewpoint, peak, or lake, be sure to enjoy the journey too. Take your time and enjoy the birds flitting from branch to branch, the sound of a burbling creek, and the lush ferns growing beside the trail. Spending time in nature is a reward in itself.

Taryn Eyton is a Squamish-based outdoor and adventure travel writer and Leave No Trace Master Educator. She is the founder of the hiking website HappiestOutdoors.ca and the author of Backpacking in Southwestern British Columbia: The Essential Guide to Overnight Hiking Trails (Greystone Books, 2021).