How to Find Hiking Partners
Whether you are new to hiking or have been hitting the trails for years, it can be a challenge to find hiking partners who share your interests and schedule. Use these tips to find and evaluate potential hiking partners and ensure success on your first hike together.
Benefits of Hiking with a Partner
Solo hiking can build character, but it can be lonely and it isn't very safe. Here are some benefits of hiking with a partner.
They can help in an emergency: Your hiking partner can administer first aid or go get help.
You're less likely to get lost: Two heads are better than one, especially when it comes to navigation. Most hikers who get lost and require a rescue are alone.
It prevents negative wildlife encounters: Statistically, groups of four people or more are less likely to have negative encounters with bears, cougars, and wolves.
They can teach you outdoor skills: A more experienced partner can help you learn about navigation, plant identification, pacing, and lots more.
You can carry less: You can share gear like first aid kits, satellite messengers, tents, and stoves.
They can improve your mental state: Having a buddy along to provide moral support when the trail gets challenging can help a lot. And as Christopher McCandless said, "happiness is only real when shared," so enjoying that summit view with a friend makes it even sweeter.
Factors to Consider When Choosing a Hiking Partner
Choosing a hiking partner is a bit like dating. You may need to go on a few low-stakes hikes before you commit to something bigger. Here are some factors to consider when choosing a new hiking buddy:
Do you get along? Make sure you like your hiking partner. Irritating aspects of their personality will only become amplified when you're alone in the forest together.
Match your physical fitness and experience level: That way you won't be constantly waiting for your partner to catch up or struggling behind them while they speed ahead. Remember that for safety, you need to stick together and go at the pace of the slowest person.
Have the same goals for the hike: Discuss them beforehand. Do you need to reach the peak at all costs? Or are you ok just having a leisurely walk in the mountains and you'll turn back when you've had enough?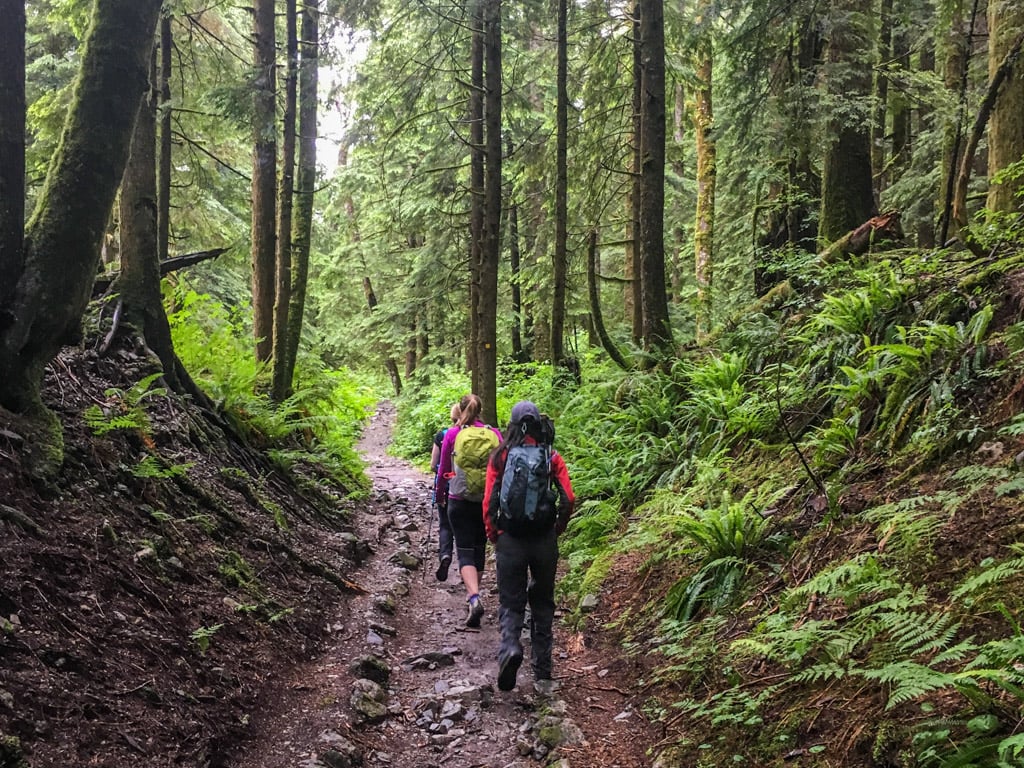 Things to do When Hiking With a New Partner
To make sure your first hike with a new hiking buddy goes well, do some prep work and keep an open line of communication.
Do some background research: Google them and look at their social media to make sure they aren't a jerk or a creep. And see if the kinds of hikes they are already doing are a good match for your hiking style.
Start with an easy hike in a popular location: Ease into your hiking partnership in a place with lots of other people around in case things go sideways.
Be self-sufficient: Bring the 10 essentials as you can't assume your new hiking partner will have them.
Discuss medical issues and hiking concerns: Find out if they have any injuries or medical conditions you should know about. Make a plan for encountering potentially stressful situations like exposed cliffs, swarms of bugs, or knee-crushing descents. Get your partner's emergency contact info just in case.
Leave a trip plan: Tell someone where you are going and when you will be back. Also include the name and contact info of your hiking buddy. AdventureSmart has a great trip planning app.
Check-in with your partner as you hike: Make sure you communicate about when to take breaks, pace, and how each of you is feeling.
Where to Find Hiking Partners in Vancouver
In the Vancouver area, there are lots of places to find hiking partners, from your social circle to organized groups.
Ask your friends and coworkers: Put the word out to your circle. Maybe they have a hidden love of hiking that you don't know about? Or maybe they have a mutual friend they can set you up with. Consider posting a request for hiking buddies on your social media. You might just reconnect with someone from high school or an old job who loves to hike.
Facebook Groups: There are tons of hiking-specific Facebook groups. Use the search function and filter by groups to find ones designed for finding hiking partners, like Group Hikes Near Vancouver or region-specific groups for your part of Greater Vancouver.
Meetup Groups: You can sign up for many different Vancouver hiking groups on Meetup. There are region-specific groups, age-specific groups, gender-specific groups, LGBTQ+ groups, kids groups, and lots more.
Hiking Clubs: The Vancouver area is home to several formal hiking clubs, many of which have been around for decades. They often have a membership fee, but the level of organization and mentorship offered makes it worth it.

Taryn Eyton is a Squamish-based outdoor and adventure travel writer and Leave No Trace Master Educator. She is the founder of the hiking website HappiestOutdoors.ca and the author of Backpacking in Southwestern British Columbia: The Essential Guide to Overnight Hiking Trails (Greystone Books, 2021).