Bigger Badder British Columbia Hikes
Many people who live in BC fall prey to our mountains charms at some point. They are stunningly beautiful after all! And, quickly, most active individuals figure out that the best way to experience our province's mountainous beauty is by taking a hike. Luckily, BC is littered with trails and the choices seem endless when you are a novice hiker.
However, if you have been hiking for a few years and are getting bored of the crowded classics like Garibaldi Lake and the Stawamus Chief you might just be in the market for something a little bigger and a little badder.
Here are four stunning hikes that will push you out of your comfort zone and get you deeper into BC's rugged backcountry.
(These routes should only be attempted by experienced hikers who are properly equipped with route finding skills and have the necessary technical equipment)
Frosty Mountain
Overview
Frosty Mountain is the tallest peak in Manning Provincial Park. Ring in at an impressive 2,400 meters, the view from the summit is unparalleled.
This hike starts in typical BC fashion with a series of switchbacks up through an old growth forest. The switchbacks conclude at an old mining cabin which marks the approximate halfway point. Beyond the cabin, you will break into the alpine.
After a few kilometers of trekking through the alpine, you will reach a rock wall. This is where the hike gets interesting. To reach the peak you will need to scramble up the rock wall to the false summit. Then continue along a ridge until you reach a second scrambling section. Once you have killed this final climb you will be standing at 2,400 meters above sea level.
With 360 degree views over the coastal and interior mountain ranges, you get an Everest-like feeling on top of Frosty Mountain that is unrivaled.
Trail Stats
Total Distance – 22 km (round trip from Lightning Lakes)
Estimated Time – 9 hours
Elevation Gain – 1,158 m
---
Needle Peak
Overview
Needle Peak is one of the most prominent mountains along the Coquihalla Highway. Its distinctive triangle top and sharp ridgeline make it stand out amongst its more rounded neighbors.
The initial hike up this mountain is steep. BC steep; aka there are no helpful switchbacks. But, it only takes about 60 minutes to break out of the forest and out into the rock carpeted alpine. Here you can pick your way past small tarns, struggling pines, and moss covered rocks. It is a beautiful place to snap group Instagram's!
Finally, after making your way through the alpine you will reach the scrambling section. Keep to the middle of the ridge and go slow. Once you reach the summit you will be treated to views of the entire Coquihalla region and on clear day views out to Mt. Baker.
Trail Stats
Total Distance – 13 km (round trip)
Estimated Time – 6 hours
Elevation Gain – 882 m
---
Vicuna & Guanaco Peaks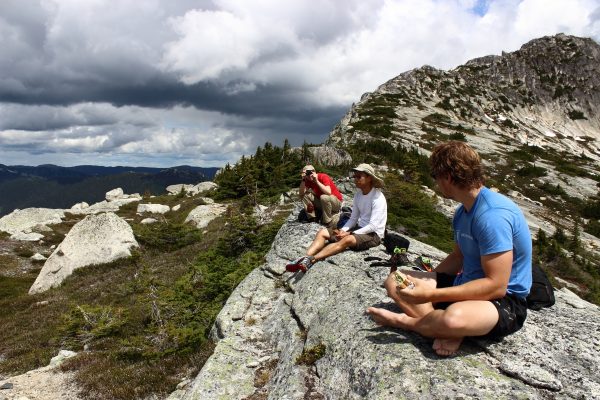 Overview
If you are looking for something completely off the beaten path and to have a trail all to yourself then you need to hike Vicuna & Guanaco Peaks. These twin summits in the Thompson Okanagan region of BC are remote. Route finding skills are necessary as the trail is not well used and finding your way out of the alpine can take some work. However, the views from the col and peaks are worth the effort.
This trail starts with a long walk down an alder infested deactivated logging road. Then it's a steep climb up a slippery pine needle bedded trail before you reach a swampy meadow. Watch where you put your feet! This meadow will suck up a hiking boot without difficulty. Finally, just when you have had enough of mud, mosquitoes, and general this hike, the trail will end and the meadow will open up. The col between Vicuna and Guanaco now visible.
In no particular order, head up to the col. Once there you have some options. First, you can summit either of the peaks. Vicuna is towards the South (hikers left) and Guanaco is towards the East (hikers right). Or you can summit both. If you plan to climb both peaks I would suggest conquering Vicuna first. It is the more technical and exposed scramble and will require lots of physical and mental energy. Guanaco, on the other hand, is a less exposed and simpler scramble.
The views from either peak showcase the regions jagged ridges and remoteness. But, the view from Guanaco highlights the district granite horn that is Vicuna Peak and generally yields more epic summit photos.
Trail Stats
Total Distance – 7 km (round trip from parking area to the col)
Estimated Time – 6 plus hours
Elevation Gain – 912 m (from Coldwater Road to the col)
---
Sky Pilot
Overview
Thanks to the Sea to Sky Gondola this elusive peak is now an easily accessible day trip. Before the gondola, hikers would have to trek for hours up decommissioned logging roads to reach the base of this climb.
This hike should only be completed if you are properly equipped as the route to the top involves a glacier climb and very exposed scrambling. The views, however, are as beautiful as the trail is technical.
Starting at the top of the gondola you will trek up an old logging road bed and then follow a waterfall up to the base of the glacier. At the glacier, you should pop on your crampons and helmet, and have your ice ax at the ready.
Up the glacier, you will climb until you reach the ridge. Here the scrambling starts. Over and over large boulders, you will climb until you reach the infamous pink slab. An almost sheer slab of granite, you will need to cross to reach the peak. The final test this mountain throws at you is a series of exposed ledges and gullies. Once these are conquered, you will be standing on the summit overlooking the entire Sea to Sky Region.
Trail Stats
Total Distance – 10 km (round trip from gondola to the base of Sky Pilot)
Estimated Time – 6 plus hours
Elevation Gain – 380 m (from gondola to the base of Sky Pilot)
Do you have any hiking or climbing goals for this summer? What mountains do you want to conquer? Leave a comment below.
Sarah is the creator behind Balancing Wanderlust; a website dedicated to providing smart adventurous women a well-rounded destination for career advice, travel inspiration, lifestyle content, and a bit of motivation to get outside. Born and raised in British Columbia, Sarah has been hiking for over ten years.