Finding the Perfect Hiking Boot for You
Hiking boots are one of the most important pieces of gear that you take on a hike and having the right footwear can be the difference between a great hike and a very long, difficult day. In this post, we'll go through the qualities that make up a good pair of hiking boots so that you can make an informed decision when it comes time to buy.
Hiking Boots vs Trail Runners
Hiking Boots are much heavier and offer more support, durability, and tread. Trail runners are generally lighter weight shoes with some reinforcements for trail usage but their main goal is to reduce the weight of the shoe for longer and faster distances of travel.
For the average hiker tackling some of the common mountain trails in Southwest British Columbia, hiking boots are the best. Hiking boots will offer the proper support and tread for some of the mountainous terrain that hikes will encounter on the local trails.
Running shoes or cross trainers should not be worn on any of the mountain trails around the region. These types of shoes do not offer any support and their soles do not have the proper sturdiness to protect your feet from the rocks and other objects along the trails. Their treads are not adequate for wet slippery rocks or the dry dirt trail conditions that persist during the peak summer months.
Material and Construction Quality
One of the most important things to consider when buying a pair of hiking boots is the quality of material used in construction. In the wet climate of the west coast, waterproof leather or synthetic materials like nylon or Gore-tex (which is a special waterproof coating) are important. The rugged mountainous terrain requires a sturdy boot that will stand up to the abuse.
Make sure that the seams are tightly stitched. Also look for reinforced toe boxes as they will provide additional protection against rocks and other sharp objects on the trail.
Buying a good quality hiking boot that is well made should ensure that it lasts several years and also survives through longer hikes.
Fit
Another important factor is fit. Like any other type of footwear, it's important to find a pair of hiking boots that fit properly, especially considering you might be hiking for many hours over very rough terrain. Make sure your heel fits snugly without slipping at all; if your heel slips while walking, your foot will rub against the boot constantly which can cause blisters and other issues over time.
Additionally, your toes should not be squished but have enough room to move around comfortably — if you feel like your toes are being pinched or squished in any way then try going up half a size or even one full size larger than what you normally wear.
Try several hiking boots on and walk around the store in each, taking the time to find the one that fits you the best.
Support
It's important for hiking boots to provide adequate support for your feet on long hikes or during strenuous activities like scrambling over rocks or climbing steep hillsides. Look for shoes with thick soles with deep treads which will help absorb shock from uneven terrain as well as provide traction when walking on slippery surfaces such as wet rocks or mud.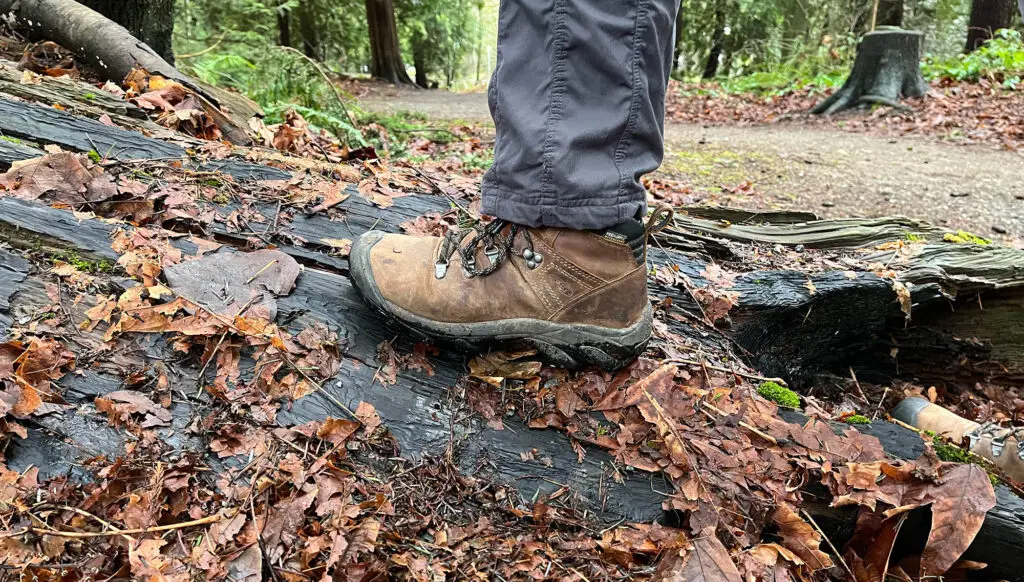 Also, look for shoes with ankle support. If you're day hiking, they don't necessarily have to be high top boots but they should provide enough support so that your ankles won't roll outwards when walking downhill or sideways across rocky terrain. If you are going on longer adventures with a heavy pack, then a higher boot with more angle support is recommended.
Breaking In Your New Hiking Boots
After purchasing a new pair of hiking boots, make sure to break your shoes in before going on a really long hike. Walk around the neighbourhoodor wear your new hiking shoes on a short trail walk. Taking the time to use them before the big hike will ensure your feet have adapted to the new shoes and they still feel comfortable.
Finding the perfect pair of hiking boots doesn't have to be hard; just keep these qualities in mind while shopping around! Quality materials and construction will ensure lasting durability while proper fit and adequate support will keep your feet happy even after long days on the trail. With these tips in mind, you'll be sure to find a pair of hiking boots that are both comfortable and reliable.