10 Best Beginner Hikes around Vancouver
If you're new to hiking or have littles ones with you, here's 10 of the best hikes around Vancouver and the lower mainland area for beginners. From urban city hikes to the surrounding provincial parks, you'll find something here to get you out on the trails, even if it's your very first time! Not sure what to pack for a day hike? Check out this packing list of essentials.
Pacific Spirit Regional Park
One of Vancouver's gems, this west side park in the city encompasses 750 hectares of forest. Numerous trails crisscross your way around the park with various entry and exit points. It's the perfect place to get "lost in the woods" just minutes away from the city. Pacific Spirit Regional Park Trail Details
Deer Lake
Enjoy a flat easy stroll around this lake located just east of Vancouver in Burnaby. Up to five kilometres of trail circle the lake and pass by a beach area, playground, viewing tower and pier offering great scenery. A perfect place for an afternoon stroll that is accessible year round. Deer Lake Trail Details
Lighthouse Park
Located in West Vancouver, Lighthouse Park is one of Greater Vancouver's most beautiful spots with some of the area's largest Douglas Fir trees and breathtaking views of the water. Stroll around the six kilometres of trails throughout the park before settling in for a picnic lunch at the beach. Lighthouse Park Trail Details
Sasamat Lake
Head out to Belcarra Park to stretch your legs on this easy, year-round accessible hike that is perfect for family picnics. The trail around the lake is a flat, well-worn three kilometre path. If you're looking for a slightly longer route, you can extend the hike around the Woodhaven Swamp area for a total of eight kilometres round trip. If the weather's nice, enjoy a dip in the lake and some time at the beach when you're done. Sasamat Lake Trail Details.
Dog Mountain
A little bit of a more challenging "easy" hike, Dog Mountain has great views for a relatively short hike up Mount Seymour. At only five kilometres round trip and little elevation gain, you'll be rewarded with spectacular views over Vancouver on a clear day. Watch your footing over slippery tree routes as you make your way up and back down the trail. Dog Mountain Trail Details.
Cascade Falls
A long drive out to this area in Mission, but a short walk brings you to the spectacular waterfall of Cascade Falls. The waterfall drops about 30-meters and can be viewed from a suspension bridge that crosses the creek to a separate viewing platform. The trail is about half a kilometre in each direction, including some stairs, but is a great place for a family visit. Cascade Falls Trail Details.
Cheakamus Lake
One of the easier hikes in Garibaldi Provincial Park, Cheakamus Lake in Whistler offers beautiful views of a turquoise lake surrounded by towering mountains and lush forests. Camp overnight, or just enjoy a day at the lake before heading back. While the total length of the trail is 16 kilometres return, you reach the lake after only three kilometres, and the campground at the four kilometre marker giving you the option of for a shorter or longer hike as desired. Cheakamus Lake Trail Details.
Norvan Falls
On the longer side of the easy hikes listed here, this 14 kilometre partial loop trail in North Vancouver, is mostly flat, well trafficked year round hike. It's a popular option with trail runners, dog walkers and families and has good parking availability and washrooms at the trail head. Norvan Falls Trail Details.
Gold Creek Falls
Drive east to Golden Ears Provincial Park for this short, beginner hike. The Gold Creek trail follows the creek up through the forest before coming to the falls lookout after about an hour of hiking. The 5.5 kilometre return trail makes it a good early season hike that is suitable for all ages and is dog friendly. Gold Creek Falls Trail Details.
Buntzen Lake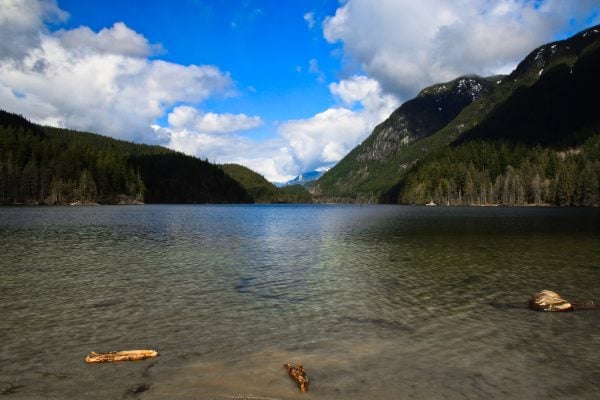 Just north of Port Moody you'll find this manmade lake maintained by BC Hydro. There are several nice beach areas to enjoy and an eight kilometre loop trail around the lake which crosses over a floating bridge. Pack your bathing suit and enjoy a dip in the lake once you've completed the hike. Buntzen Lake Trail Details.
Looking for more intermediate or challenging hiking trails, check out the 10 Best Vancouver Hikes.

Jennifer Kolbuc is an avid hiker, new mom and social media professional. Originally from Ontario, she moved to Vancouver 10 years ago and fell in love with the great outdoors. You'll find her sharing her hiking adventures on Instagram with other hikers and new parents.